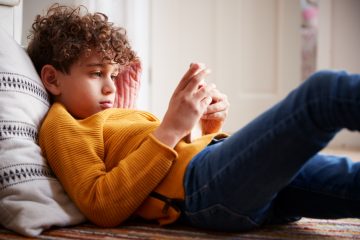 It's likely you have seen coverage in the media in the last few days about a new angle on the management of screentime. It's certainly one of the biggest challenges facing parents, how to manage their kids use of screens. It's a question we are asked regularly when we meet parents at our Parent Seminars in schools around the country, how much time, is too much time in front of a screen?
Well, the latest research on this tells parents it's time that they were a little easier on themselves! Research undertaken at University College London by the Royal College of Paediatrics and Child Health (RCPCH), which oversees the training of specialists in child medicine, has produced guidance on screentime for under-18s. The college said it was not setting time limits for children because there was not enough evidence that screen time was harmful to child health at any age. Researchers have instead suggested that parents ask themselves the following set of questions when it comes to screentime:
Is your family's screen time under control?
Does screen use interfere with what your family want to do?
Does screen use interfere with sleep?
Are you able to control snacking during screen time?
Dr Max Davie, Officer for Health Promotion for the RCPCH, said phones, computers and tablets were a "great way to explore the world", but parents were often made to feel that there was something "indefinably wrong" about them.
He said: "We want to cut through that and say 'actually if you're doing OK and you've answered these questions of yourselves and you're happy, get on and live your life and stop worrying'.
At Zeeko we always advocate the importance of having a balance when it comes to the use of screens. We pioneered and promote the 5:1 Rule when it comes to creating that balance. For every 1 hour spent on a screen this should be balanced with 5 hours of 'offline' activity which can be anything from doing homework to playing sport and spending time together as a family, engaged in a non-screen related activity. We also encourage parents to be conscious of their own use of screens and take every opportunity to be a good role model!
As Dr Russell Viner, president of the RCPCH, told BBC Radio 4's Today programme "screens are part of modern life", adding: "The genie is out of the bottle – we cannot put it back."
We couldn't agree more!
It's a good time of year to reflect on your family's screentime and how you might like to improve the balance in the months ahead. This new guidance should help you in developing a plan to better manage screentime for your family!