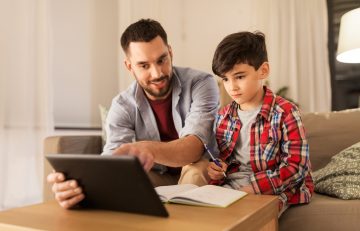 It's not so long ago since there was only one digital device in an office and it was unlikely that people had access to a computer at home. Now you would be forgiven for thinking that digital devices were always part of life! Developing the skills needed to operate in a world surrounded by technology are now an important element of education known as 'digital literacy'. So, what are the key elements of digital literacy and what do you and your family need to know about it.
Digital literacy can start with something as simple as knowing how to work a digital device. For example, knowing how to open the apps on a device, how to keep a device safe from viruses and from a parental perspective how to activate safety settings to ensure that your child stays safe when they are using devices. One huge development online recently is the growth in what is known as fake news. Fake news can be a challenge for adults to identify at times, so you can image what a difficulty it can pose for children and especially teens. At its core fake news is linked to the perception of what is true and what is not. It's a good idea to have regular conversations with your child, at an age appropriate level, letting them know that it is important not to believe everything they read when they are online. Make sure that your child knows that it is ok for them to come to you to talk about something they may read online that they are not sure about. For older children remind them to exercise caution and to use their own judgement to work out if what they are reading is real or fake. In a world where images are regularly airbrushed it can be a struggle to identify the genuine from the not so genuine! Developing the skills to be able to make smart choices online is a key element of staying safe.
Digital literacy also extends to your child having a 'toolbox' of resources which they can use to help them stay safe online. Make sure they know several key ways to make sure they are safe online such as the 5:1 rule about screentime and the t-shirt rule about being conscious of what they are posting when they are online. As we always say at Zeeko the internet is a fantastic resource, but we do need to make sure that children are educated about using the internet in the safest possible way.
The positive side of the internet and the continuing growth in the use of digital devices should not be underestimated either. If your child develops digital skills, they will certainly have a skill for life. Many industries now rely heavily on technology as a central element of their operations and need to recruit a workforce with a range of digital skills, so well developed digital literacy is a great foundation for the future!