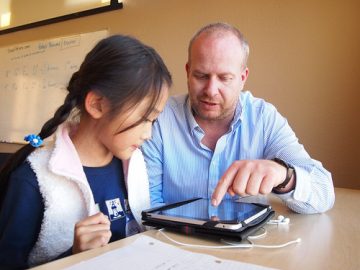 There is no denying that the current public health situation that is gripping Ireland means that our kids have had to adapt to new ways of learning and experiencing education. The basis of much of this education is technology. Our blog this week looks at some of the platforms that children are using to stay connected to their teachers and classmates at this time.
Skype: Skype operates essentially through a video call. It is a great way of children keeping in contact with grandparents who are cocooning at the moment. From an educational perspective Skype calls can be used for your child to link in with classmates and also their teachers to discuss things like projects they may be working on. The video option on Skype is very easy to operate and it can be a great way for children to feel reassured by seeing their classmates and teacher.
Zoom: Zoom is a similar platform to Skype but it allows more people to be on a call together. This enables a larger sized class to interact with each other. A platform like Zoom can be a great way for a teacher to check in with individual students or a bigger group. It's also possible for older kids to link in with their classmates to perhaps complete a project or create a study group. Really at the moment it's all about staying connected from a distance.
ClassDojo: Is an App that is free to teachers and they can share updates with parents once the parents have downloaded the App to their smartphone. An App like this one is particularly useful at a time of school closures like the one we are experiencing at the moment. Teachers are able to upload classwork and/or homework to the App and parents receive notifications on their phones when new material is added to the App.
These are just a sample of the ways in which children are now experiencing school life currently. There are a few important things to remember if your child is using technology to interact with classmates or indeed older family members. Particularly for younger children supervision is really important if they are using technology. Also, although it is a challenge at the best of times to manage screentime do try and be conscious of the amount of time your child is spending looking at a screen during the day and try to balance that with non-screen activities such a board games, age appropriate card games, colouring and reading. Remind your child that this type of learning is only temporary and that while we don't currently know when a return to school will be there will be a time in the future when they will be returning to school and the learning they are used to will resume.
Finally, do take opportunities to link in virtually with the parents of children in your child's class if possible. It is really important to support each other at this time. You may be able to get an insight into how other parents are dealing with their kids use of technology and home schooling at the moment. The most important thing is not to put yourself under too much pressure in relation to home schooling. All we can ever do is our best.