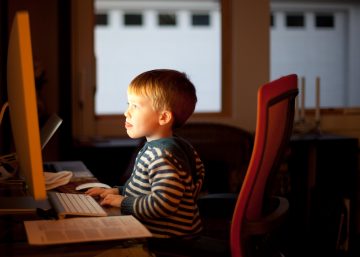 While we are currently unable to deliver our seminars physically in schools due to the Covid-19 school closures we wanted to share some of the advice we  offer to parents when it comes to talking to their kids about staying safe online. This advice comes from the experience we have of listening to kids at primary and second level about their experiences of the online world.
The first thing we tell the children and teens we meet when we visit schools is that if they encounter content that upsets them when they are online that they should not respond to nasty messages, they should block the user and tell an adult they trust what they have experienced. Stop, Block. Tell.
We also reinforce with children and teenagers that friends they have online should be their friends in the 'real world' first. If they receive a friend request always check with them in person before you accept their request. If they don't know the person block them straight away. It is undoubtedly a challenge to help kids to exercise caution when it comes to the online world. Talking to them regularly about the importance of using the same type of common sense that they use when it comes to dealing with people face to face, as they do when they are online is very important.
The prevalence of social media means that there is a growing belief among young people that what they see online is real. We encourage teens in particular, to be aware of what we term fake perfect! We remind kids that what they see online isn't always real. Many images online are merely a snapshot of a few minutes in someone's life. It is important to remind kids to escape the fake perfect of the online world and make time for real world experiences. These experiences will help protect and support their mental and physical health.
It's always a good idea to ensure that the basics are in places so remind your child to make sure that their social media accounts are set to private. If they aren't anyone can see the pictures, posts and send message requests. You should also ensure that safety settings are in place on the digital devices that are being used by all the family.
At Zeeko we encourage kids to find what we term a Chatbudi. A Chatbudi is a trusted adult over the age of 18 who kids can share all their great online experiences with, but also confide in them about any bad experiences with too. We encourage kids to ask a parent, guardian or other relative to be a Chatbudi.
While technology and the internet are a fantastic resource, it is really important that kids learn the importance of balance when it comes to using tech. Encourage your child to balance it out and make time each day to do non screen activities that they love.
Hopefully these insights will help you to get a conversation on staying safe online started at home!